Home & Kitchen
How to Dry Orange Slices (in The Microwave or The Oven)
Have you been looking for the best ways to dry orange slices? Dried oranges are a Christmas decoration that has been around for a long time. The majority of what we consider traditional Christmas decorations trace back to Queen Victoria's reign in the mid-nineteenth century. Prince Albert, the Queen's husband, popularized tree-decorating in the United Kingdom by bringing them to Windsor Castle in 1848.
Today I'm going to show you how to dry oranges quickly for the holidays. Christmas memories are comprised of the family gatherings, crackling fires, festive fragrances, music, food, and glittering warm lights, and it all starts with my sense of smell — nothing kicks off my season like the scent of oranges pervading my home!
Dried fruit was a popular Christmas decoration during the Victorian era, so using dried oranges in our holiday decor feels very traditional. We love making homemade Christmas decorations around here, so learning how to dry orange slices was a no-brainer. They also have a wonderful aroma! Read through this detailed article to know more about drying orange slices.
Related topics:
How to Dry Orange Slices
You will need:
A couple of oranges.
A sharp knife.
An Oven.
How to Prepare Your Orange Slices for Drying
The preparation work was the same for all of the methods we tried. To begin, you'll need a few medium-sized oranges. What determines how many you require is what you intend to do with them subsequently. I'd suggest four or five oranges for a densely packed garland. If you intend to use the orange slices for ornaments, then you can use one or two.  Wash your oranges if you plan to eat them or use them in any way with food. To ensure even dehydration, try to make them as uniform as possible. If your oranges have seeds, remove them.
In every case, thin slices work best for this method. Make sure they're thick enough to keep together after drying. After preparing the orange slices, you can follow this step by step process to dry your orange slices.
Step 1: Preheat the Oven
The first step is preheating the oven to about 200F.
Step 2: Blot as much juice from the oranges as possible with a towel
The drying process will be substantially faster as a result of this.
Step 3: Sprinkle a Little White Sugar 
You can sprinkle a little white sugar on the orange slices for a more translucent effect, but this is optional.
Step 4: On a cookie sheet, arrange the orange slices
You can either use parchment paper or a cookie cooling rack to arrange them on top of the cookie sheet. This allows for improved air circulation and reduces the number of times you have to turn the slices.
Step 5: Place the oranges on the middle rack of the oven
For the first two hours, I flipped mine every hour, then checked on them every 30 minutes after that. It took me roughly 4 hours to do mine. The oranges should be thoroughly desiccated but not sticky. However, it's always preferable to err on the side of caution and take them out sooner rather than later, as they'll dry out on their own in room air.
Other methods of drying orange slices
Using Microwave
Although drying orange slices in the microwave reduces the cooking time, this procedure is not without its drawbacks. Microwaving the slices necessitates a large amount of paper towels and produces a less firm outcome than the other two processes. To begin microwaving the oranges, prepare them as directed above, but make sure you only slice them thinly.
Step 1: Place five layers of paper towels on a microwave-safe tray
It's true, I said five. You'll need many paper towels to soak up the juices and keep them away from the fruit as much as possible.
Step 2: Place the orange slices on the paper towels
As you do it, kindly make sure they don't overlap. Now add another layer of paper towels, this time five thick, on top of the orange segments. I know it's a lot of paper, but the ones on top can be reused.
Step 3: Put the plate into the microwave
Remove the oranges from the microwave after seven minutes. Replace the bottom layer of paper towels with fresh ones and flip them over. Recover the oranges using the old top paper towels.
Step 4:  Re-defrost your microwave for another five minutes on the DEFROST setting
You'll want to check on them at this stage to see how they're progressing. A jelly-like consistency is what you're after. They're done if you can touch them and your finger doesn't come back damp. If they still have moisture on them, put them back in the microwave for two minutes at a time until they are no longer damp.
Once you've extracted as much moisture as possible, place them on a wire rack to cool and harden, which will take several hours.
Using an Air Fryer
It's also simple to dry oranges in an air fryer, and it appears to take the least amount of time of any method we examined. Because the air fryer circulates warm air through the cooking chamber, it's understandable that this would work quickly. Dehydrate mode is available on several air fryers.
We didn't have that option on ours, so we used the default settings. To protect the orange slice from sticking to the bottom of the pan, use the basket or rack that came with your air fryer. You want the warm air to circulate around the orange on all sides.
Step 1: Arrange the Orange in the Air Fryer 
It is essential to arrange the orange slices in one layer. This should be done without overlapping them.
Step 2: Set your Air Fryer 
Reduce the temperature of your air fryer to the lowest setting. We started at 200 degrees Fahrenheit but eventually reduced it to 175 degrees Fahrenheit. Cook for 30 minutes before pulling them out to turn them. The skin of our oranges was already rigid when I checked them, and the middle was almost jelly-like. They appeared to have a little moisture left in them.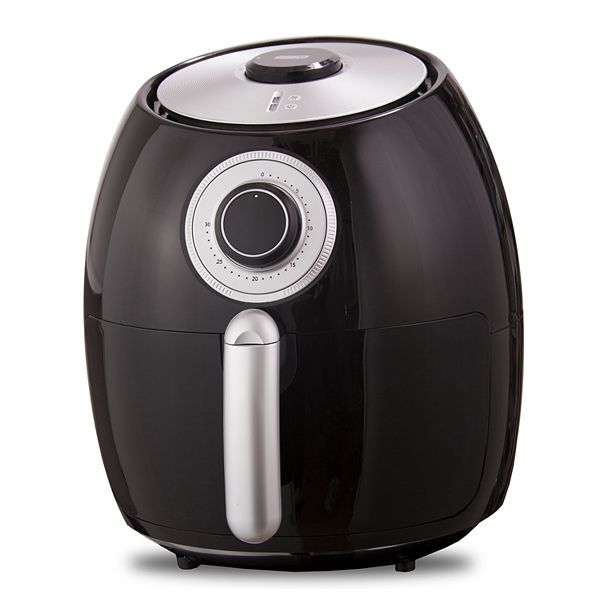 Step 3: Place the Oranges Back in the Air Fryer
You should do this for another 20 minutes. We started hearing them rattling around in the air fryer at this time, so I double-checked them. Because the peels were very hard and the interiors appeared devoid of moisture, I pronounced them done. Remove the oranges from the air fryer and set them to cool on a wire rack.
Tips to Dry Sliced Oranges
The quickest way to dry oranges is in the oven, but the trick is to dry them gently! They're not only sticky, but they might also burn if the oven temperature and the thickness of your orange slices aren't the same. So, if you want to make thinner slices (approximately 0.5cm thick), bake them for 2-3 hours at the lowest temperature of your oven, about 90C/200F. If you want thicker slices, perhaps for a more intricate decorating concept, slice them approximately 1cm thick and bake them at 120C/250F for 2-3 hours, flipping halfway through.
FAQS
Best way to store dried orange slices
It is advisable to store your dried orange slices in a glass jar. From there, you should put them in a dark, cool pantry.
How long do sliced oranges last?
Your dried orange slices should survive for as long as you want them to, especially because this is a décor guide rather than a cooking instruction. Even if dried oranges are dried and stored for consumption, they can last up to two years! The key is to make sure your slices are absolutely dry to avoid mold. If you plan on storing them for the next season, place them between layers of newspaper to absorb any moisture.
Year after year, bring out your dried orange slices as decorations. If they go bad or moldy due to insufficient drying, the tutorial is simple enough to dry the orange slices again.
What can you do with dried orange slices?
Make a festive Christmas garland by tying dried orange slices to a piece of twine.
Cut small pieces of thread or ribbon to tie, then hang as a homemade ornament.
As a charming and natural accent, add a few dried oranges to your handcrafted wreath.
Hang your dried orange slices as decorations all over your home.
The first option we explored was baking the pieces at low temperatures to dry them out. This method was simple to implement and yielded the intended outcomes. It took an excessive amount of time.
Final Thoughts
We hope that you found this article enjoyable and informative. You can leave a message in the comment section if you have any tips or questions on how to dry sliced oranges. Kindly like and share the article if you found it helpful.
Reading more: